About First Pioneer Insurance Agency
Established in 1980, First Pioneer Insurance Agency has grown into a full service insurance center. Our expertise is based on a well-trained, professional staff with caring, conscientious people that you can depend on. Our agency serves the insurance needs of individuals, families, businesses and farms across North Carolina.
Our agency connects to the industry's most secure cloud-based management system which allows us to answer inquiries quickly and better serve our customers. In addition, we have real-time rating systems which provide rate comparisons with some of the country's finest insurance companies.
First Pioneer Insurance Agency has become recognized as one of the leading agribusiness insurance agencies in the country. We are licensed in over 30 states and endorsed by several different agricultural associations. Our agency offers an exclusive agricultural workers compensation insurance program for farm and agribusiness operations across the United States.
First Pioneer Insurance Agency merged with Matthews Insurance & Financial Services in 2017 and Joshua E. Matthews Insurance Agency in 2022. Our agency maintains an affiliation with Erie Insurance, one of the top 25 property and casualty insurance companies in the nation.
A Professional Agency With Personal Service
Trusted Choice® agencies are insurance firms whose access to multiple companies and commitment to quality service enable us to offer our clients competitive pricing, a broad choice of products, and unparalleled advocacy. We are dedicated to you and committed to treating you as a person, not a policy. We vow to abide by the following pledge of performance:
Work with you to identify the insurance and financial services that are right for you, your family or your business and use our access to multiple companies to deliver those products.
Guide you through the claims process for a prompt and fair resolution of your claim.
Help you solve problems related to your coverage or account.
Explain the coverages and options available to you through our agency, at your request.
Return your phone calls and emails promptly and respond to your requests in a timely manner.
Provide 24/7 services for our customers, offering any or all of the following: emergency phone numbers, Internet account access, email and call center services.
Use our experience and multiple company relationships to customize your coverage as needed.
Commit our staff to continuing education so they may be more knowledgeable in serving you.
Treat you with respect and courtesy.
Conduct our business in an ethical manner.
We pledge this to you, our clients and ask that you let us know if we fail to meet our commitment, so we may take corrective action.
First Pioneer Insurance Agency is prepared to provide you with a no cost, no obligation review and comparison of your insurance. Simply contact us today to get started!
Why do business with First Pioneer Insurance Agency?
Unlike a captive, or direct insurance company who only offers their own proprietary products, our agency is 100% independent of any one company. Many insurance consumers don't fully understand just how important that really is.
When it comes to something as important as insurance, it's imperative that you work with an agency who has an in-depth knowledge of multiple insurance products, companies, and guidelines — not just one.
At the end of the day, what separates one agent from another, is their ability to proactively service their policy holders, and their knowledge of the insurance industry, products, and different situations that may present themselves to their clients.
Independent Agent Vs. The Rest
Here is a quick comparison of the differences between an independent agency like us, and the various other types of companies that are out there: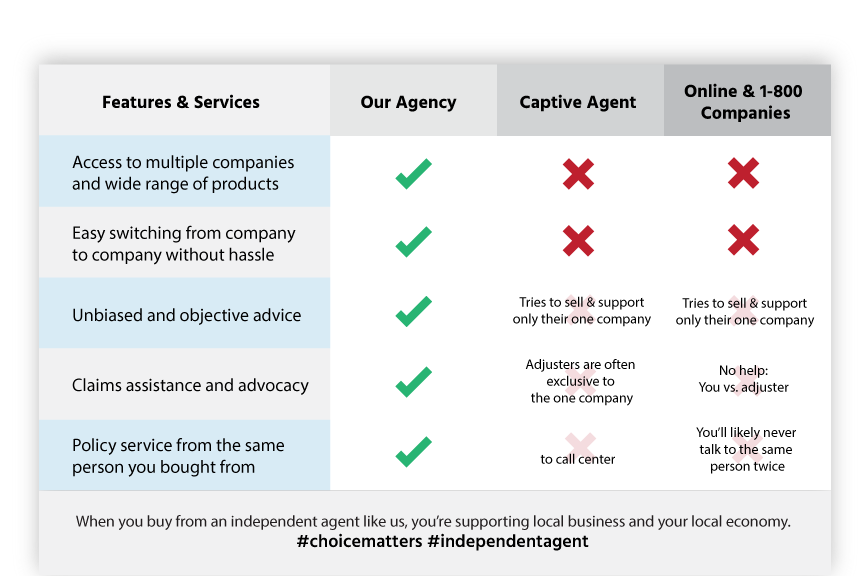 If you'd like to get started with a complimentary quote and/or policy review, we'd be happy to help you any way we can. Simply complete the fields below to get started online in a matter of seconds.
We appreciate the opportunity to help you, and look forward to servicing your insurance needs! Feel free to call us directly if you have more detailed questions.